Dani Clark pulls on a beige riding cap over a long auburn braid. She tucks her hands into her jacket pockets and walks toward the pasture, crunching snow beneath her boots. The shadowy figures beyond the fence move toward her, swinging their large heads back and forth with each step.
"This one's Mini," Dani says as she reaches the wire fence, stretching to stroke the thick neck of a beautiful brown horse. "She's the one I barrel race on."
Dani has spent nearly her whole life on a 20-acre horse ranch a few miles north of Crane. She rode horses before she could walk and has cared for them as long as she can remember. Her life is horses. She tends them after school every day and competes with them in rodeos around the state every season. Her love for them is so strong that she dreams of becoming a horse chiropractor when she grows up.
"Horses can throw out their backs too," Dani says. "So you rub their backs and see where they're sore and help pop it back into place."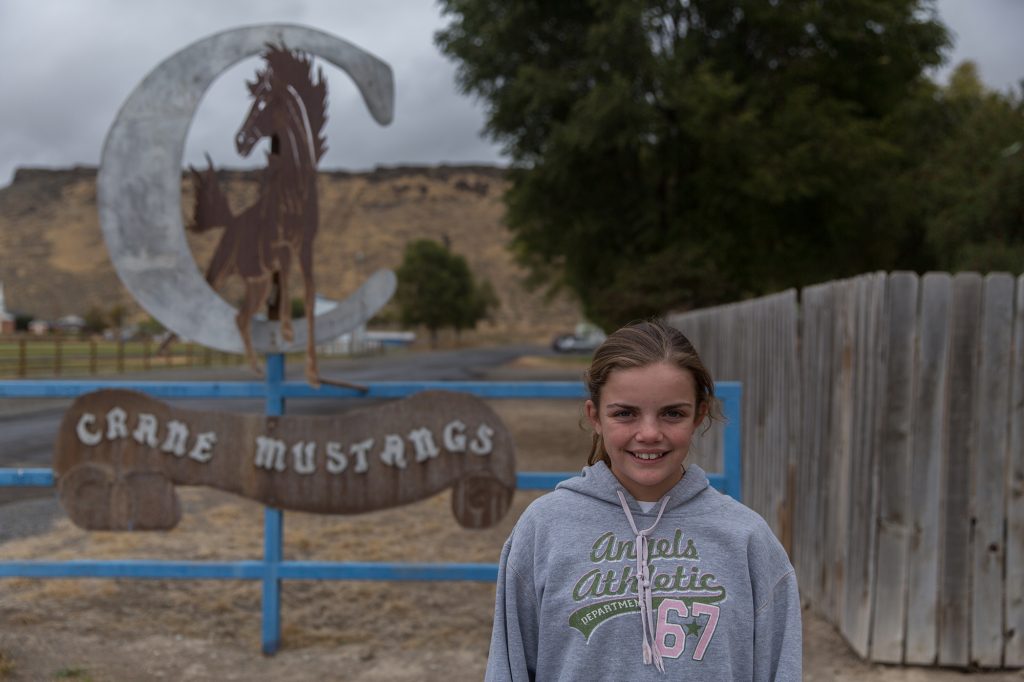 For now, Dani is focused on her seventh-grade year at Crane Elementary School. She loves math and science, subjects she must master to reach her career goals. Crane Union High School offers a wide range of classes that will help her even more. Dani is excited to take welding and woodshop when she gets there, but what she most wants to take is the agriculture class – a program that recently lost its funding and is no longer offered.
"Ag used to be a class you could learn about animals and agriculture, but the program isn't there anymore," she said. "I really want it to come back so I get to learn about horses and animals and how their bodies work."
Matt Hawley, Crane Union High School's principal, said restoring the program to the curriculum is a high priority. At one time, the program covered animal breeding, care and maintenance, as well as the cycle of animal production.
"Our rural community has a big focus on agriculture," he said. "The kids demonstrate interest in ag-related fields like crop reduction and animal sciences, so we're looking at opportunities to find the funding through increased student enrollment or collaborating with other districts."